Sant jordi, books, roses, love and legend
Culture
14/04/2023
One of Barcelona's favourite days is almost here, the Diada de Sant Jordi (Saint George's Day). On 23 April, the city of Barcelona will be filled with roses of all colours, but above all, with red roses and books and more books. If you still don't know the legend and traditions of this special day, take a look at our post from last year.
This year the celebration comes with some new features, here is a compilation of the most important events that will take place on Sunday 23 April so that you can enjoy the city in all its cultural splendour.
The literary «superilla» and the recovery of la Rambla
Passeig de Gràcia will once again be the main protagonist of this literary festival. Here you will find the largest number of book stalls. A «superilla» without traffic will be created, as all the streets between Av. Diagonal, Gran Via, C/Balmes and C/Pau Claris will be cut off, full of professional stalls selling roses and books, where only pedestrians will be able to stroll. C/Gran de Gràcia will also be added to this edition, which will become a place for neighbourhood organisations.
During the limitations due to the pandemic, the rose and book stalls were removed from the emblematic Rambla and, as a great novelty, this year this symbol of the city is once again being recovered.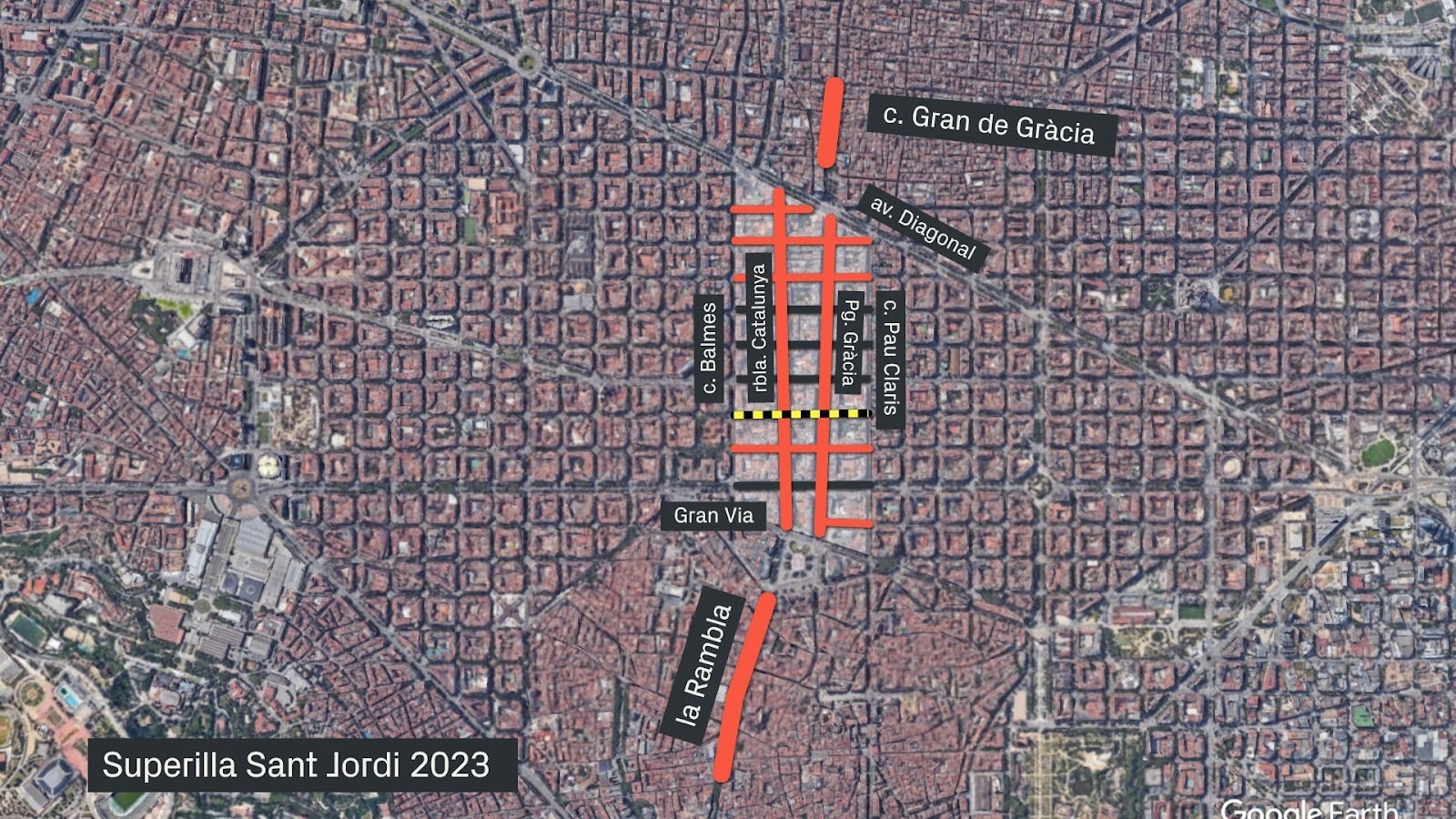 Source: https://beteve.cat/cultura/superilla-sant-jordi-mapa/
Places to visit for free on Sant Jordi's day
La Sagrada Familia
: all Jordis, Jordinas, Jorges and Jorginas will be able to visit the church free of charge from 10:30 am to 7 pm ( check equivalence of names). In addition, they have launched a draw for 90 tickets for a special night visit on 22 April, the eve of Sant Jordi, between 20:30h and 21:00h. The draw is available until 18/04/2023.
Recinte Modernista de Sant Pau
: there will be an open day from 10 am to 5 pm with activities related to the history of the site and its architect, Domènech i Muntaner.
Sant Jordi Musical
at the Old Estrella Damm Factory: concerts, activities and book signings will be held throughout the weekend. You can find all the information about the event here.
Barcelona City Council
: a special open day, where you can enjoy a dynamic visit led by several historical figures who will take you through the noble halls of the City Council and the Mirador M. Aurèlia Capmany on the ninth floor of the building. It can be visited from 10 am to 8 pm. The entrance is on Carrer Ciutat (Gothic façade).
Biblioteca de Catalunya
: a free or guided visit (by appointment) will be available on 23 April, completely free of charge.
Institut d'Estudis Catalans
:one of the most romantic places in the city thanks to its cloister. On Sant Jordi's Day it will hold an open day with a book parade in the Pati de la Convalescència.
If you are still looking for a date for your visit to Barcelona, we guarantee that the weekend of Sant Jordi is one of the best to enjoy the city in all its cultural splendour and with a very romantic touch.
Book one of our flats
and experience it like a local.